Words by Nathan James Thomas
When we travel, we carry with us not just our passport, camera and suitcase, but also a deeply ingrained way of seeing and interpreting the world around us. Some travelers hold tightly to their familiar perspective, allowing nothing to alter it. Such travelers may see dozens of countries, but little of the world. The traveler who wears their own perspective lightly and takes on—at least briefly—the worldview of those they encounter, may experience a multitude of different worlds within a short walk from home.
Creativity is Curiosity
Creators, such as writers, photojournalists and documentarians are often at their best when they make it their mission to uncover perspectives that differ, perhaps radically, from theirs. When traveling to somewhere that is regarded as strange, perhaps dangerous, to Western eyes, such as Iraq, North Korea or, even Russia, it is one thing to render these places through art in a way that confirms and plays to familiar perceptions. It is quite another to transcend these preconceptions, and instead capture the world views of those you document. To not simply see them, but to see as them. This a pathway to fostering understanding between cultures at loggerheads and to breaking down psychological and political barriers.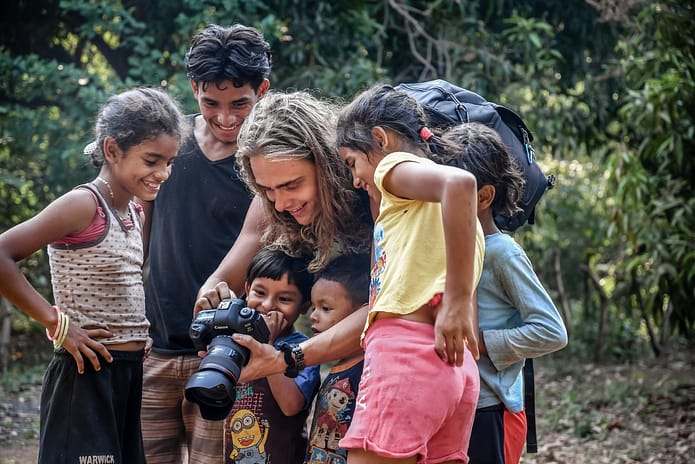 Prior Knowledge is a Double-Edged Sword
In Travel Your Way: Rediscover the world on your own terms (Exisle Publishing), I write about how when I first visited Ukraine as a naive 18 year old New Zealander, my complete ignorance of the country's history prevented me from getting as much depth out of that experience as I could have. Prior knowledge adds color, layers, context and meaning to otherwise forgettable observations: Buildings come alive as the scenes of great debates, monuments speak of epic lives. But prior knowledge can also blind us to the realities we counter if they send us to the airport with our minds already made up. No matter how well-read, all travelers are ignorant and naive. Accepting this can allow us to hold less firmly to our beliefs, and engage empathetically with those who disagree with us.
They Are Not Foreigners. You Are.
When I returned to New Zealand after living for a year in China, I noticed that Chinese tourists in Auckland or Sydney would refer to us locals using the phrase "Waiguoren" – foreigner. To them, we were foreigners, even though we were at home. We are all guilty of this conceit: Even far from home, we regard ourselves as normal, and locals as different. We consider ourselves the North Star against which progress, success and truth must be measured. We are often wrong to do so. Especially when pursuing humanitarian and conservationist work where local co-operation is paramount, we would be wise to follow Steven Covey's famous maxim: Seek first to understand, then to be understood.
Travel can liberate us from misconceptions we didn't even know we had, and foster new and profound levels of understanding. But only if we let it.
Nathan James Thomas founded Intrepid Times in 2014, and it has since grown into a popular home for travel writing with heart, attracting hundreds of contributors and thousands of readers from around the world. His own travel writing has been published in places like Roads and Kingdoms, Outpost Magazine, and New Zealand Memories. He wrote Travel Your Way, and is the editor of Fearless Footsteps, both published by Exisle.